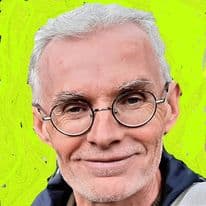 Jean-Pierre Serandour
Bienvenu dans cet espace où vous est offert la possibilité de vous ouvrir à la réalité de ce que vous êtes vraiment et devenir plus paisible quelles que soient les circonstances de votre vie quand vous réalisez que vous créez votre propre souffrance en entretenant votre dialogue intérieur.
Wellcome to a space where you can find more peace in yourself in all circumstances of your life no matter what when you realise that you keep creating your own suffering by following your inner narrarive.
The Leela School has helped me to become more aware of how I get entangled in believing thoughts that are not real but create a false reality; that has set me more free and joyfull despite the circumstances and therefore open to the unknown.
L'Ecole Leela m'a aidé à devenir plus conscient de comment je me laisse entraîner à croire dans mes pensées qui ne sont pas réelles mais qui font illusion; cela me rend plus libre et plus joyeux peu importe les circonstances et incidemment m'ouvre à l'inconnu.
Location
Kerpert, Guingamp, Côtes-d'Armor, Brittany, Metropolitan France, 22480, France