We live in exceptional times. No matter how difficult it may have been in the past to realize yourself, now is the time. No matter what your past might be, it is possible for you, right now, to wake up and be free. For one moment, be still and everything disappears. This opening is your chance to realize the answer to the question 'Who am I?' - Eli
Saturdays - ongoing
✔︎ Live online connection
✔︎ Meet with Eli and the community monthly
✔︎ Receive support to awaken to your True Nature
We are excited to offer weekly and monthly online meeting options as well as a combined membership that will deeply connect you with the Leela global community and Eli.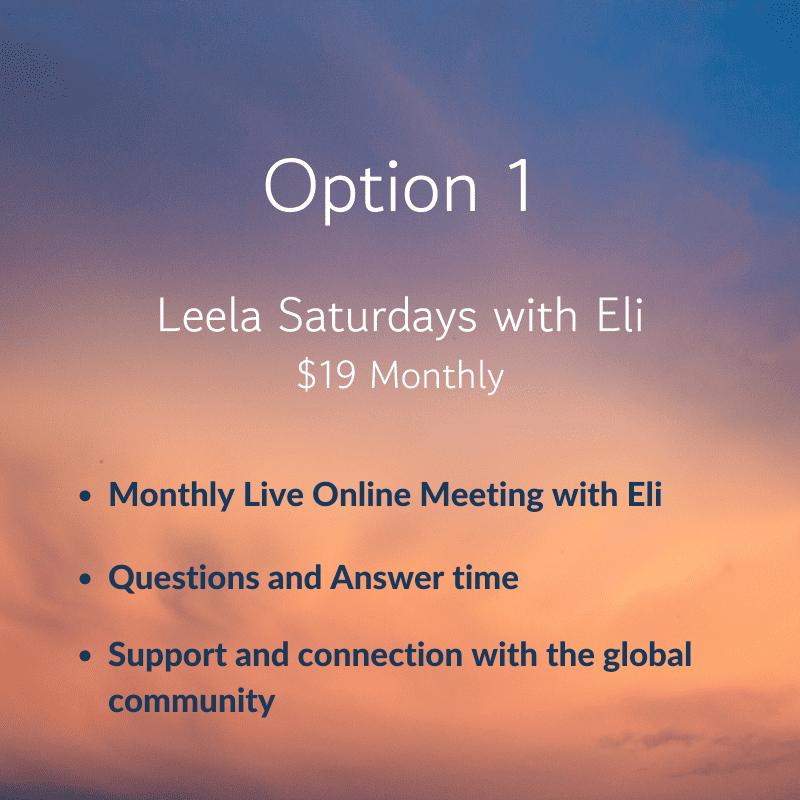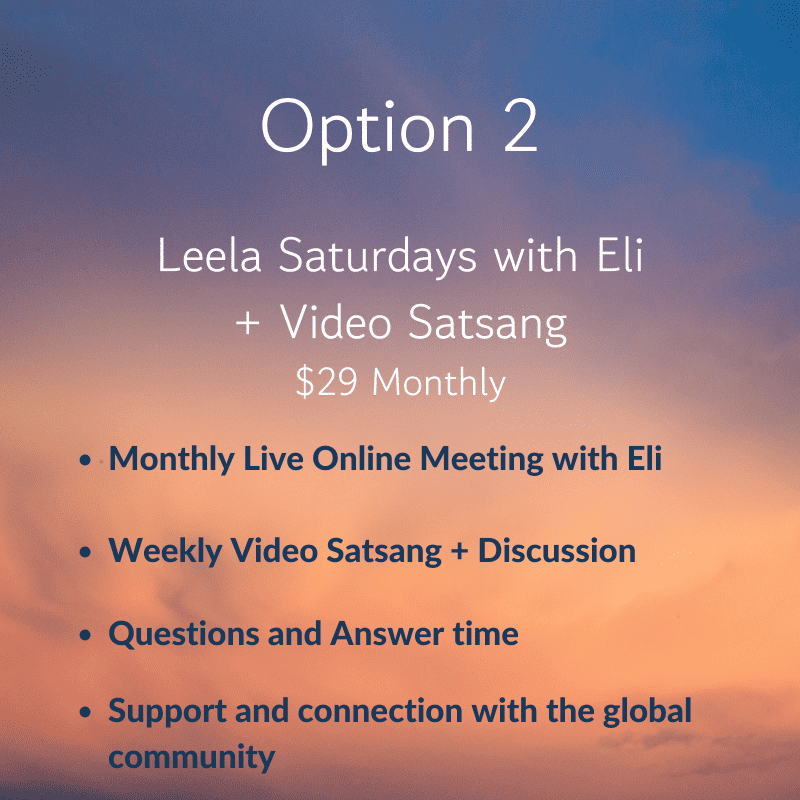 Additional Information for Online Memberships
Please choose a monthly membership option that works for you. For questions please email info@leela.org.
All Meetings are online.
Weekly Video Satsang Meetings are included with all Option 2 memberships. Those meetings are currently scheduled for Fridays at 1pm US Pacific Time.
The following dates are the live meetings with Eli. All of these are scheduled for Saturdays at 1pm US Pacific Time.
October 21, 2023
November 18, 2023
December 16, 2023
January 20, 2024
February 17, 2024
March 16, 2024
April 20, 2024
May 18, 2024
June 15, 2024
July 20, 2024
Why learn with Eli Jaxon-Bear?
Eli Jaxon-Bear is an American spiritual teacher and author of several ground-breaking books, including Fixation to Freedom: The Enneagram of Liberation and The Awakened Guide: The Next Wave. He lives in Ashland, Oregon, with his wife Gangaji who is also a spiritual teacher. Before he met his final teacher, Sri H.W.L. Poonja - Papaji, in 1990, he was best known for his new model of the Enneagram taking it deeper than personality to the core of ego. Now he infuses his mastery and depth of experience with the enneagram, with his teacher's transmission of a silent mind and open heart, and the possibility for final liberation through self-realization.
Eli has taught hundreds of enneagram retreats all over the world, working with thousands of people to discover their true nature. His mastery is reflected in his capacity to work with individuals directly during the retreats and courses, both to identify the correct fixation, and to assist the student to wake up from the trance of their personal identity.